With the 26th pick of the 2009 NFL Draft, the Green Bay Packers select Clay Matthews, linebacker, USC.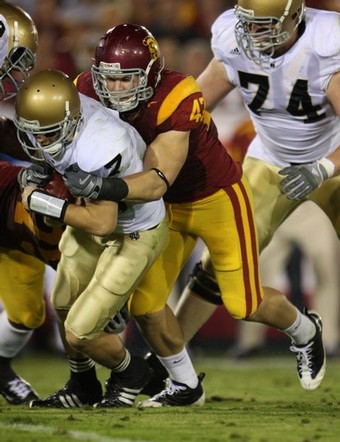 After shoring up the front-line at No. 9 with the pick of B.J. Raji, general manager Ted Thompson did some moving and shaking for the Packers, trading up with the New England Patriots to select Matthews, a California kid. Many had had the Packers taking a playmaking linebacker at No. 9, but Thompson showed that that could be taken later. After the Baltimore Ravens swapped spots the Patriots, who were originally picking at No. 23, to take Ole Miss tackle Michael Oher, Thompson worked the phones, trading three picks, Nos. 41, 73, and 83 to New England for Nos. 26 and 162. Then Thompson pulled the trigger and got his man.
Matthews is a great pick for the Packers and their new defense. Matthews has great size, at 6'3″, 245, and has great awareness as an outside linebacker. As a walk-on at USC, he worked his way onto the playing field and made the field his domain once he made it into the starting lineup. Many people questioned the price the pick cost Green Bay, but defense was an obvious need for the Packers on Day 1, and they made the picks they needed to.
Matthews has a great NFL lineage, as his father, Clay, and uncle Bruce, had long NFL careers, with Bruce making into the Hall of Fame as a guard. Matthews can play all four linebacker spots in the 3-4 and will compete for a starting job from Day 1. Whether or not this spells the end for one of the Packers backers remains to be seen, but for right now, Packers fans can look at the depth on defense and smile.