Packers.com is reporting that Green Bay Packers QB, Aaron Rodgers has been named NFC Offensive Player of the Month for Dec-Jan.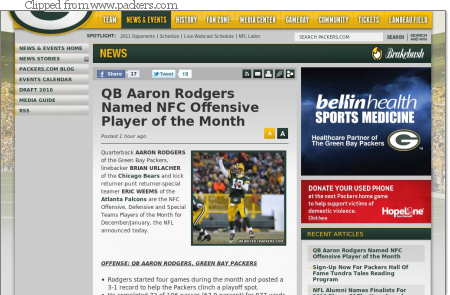 Here is a list of his accomplishments:
Rodgers started four games during the month and posted a 3-1 record to help the Packers clinch a playoff spot.
He completed 72 of 106 passes (67.9 percent) for 977 yards with eight touchdowns and two interceptions for a 114.4 passer rating, the best mark in the NFC. He averaged 9.22 yards per attempt, tops in the NFL.
In Week 13, he threw for 298 yards with three touchdowns and no interceptions, becoming the first Packers QB since Pro Football Hall of Famer BART STARR in 1966 to not throw an interception in five consecutive games.
In Week 16, he had a career-high 404 passing yards and threw four TDs. It was the 10th time in his career that he threw at least three TDs and no INTs in a game, the most by a QB within three seasons of his first start.
He earned NFC Offensive Player of the Week honors twice during the month (Weeks 13 and 16).
In his sixth season from California, this is Rodgers' second career Player of the Month Award (October 2009).
He joins BRETT FAVRE (five) as the only Packers to be named Offensive Player of the Month multiple times.
As Packer fans, we all know what a great player Rodgers is. Now it's time the rest of the NFL finds out as well!
Go Pack Go!
Tags: Aaron Rodgers Green Bay Packers NFC Offensive Player Of The Month