Aaron Rodgers has our hearts, he has the Packers respect..now, he's been nominated for yet another award, the FedEx Air NFL Player of the Year!
He deserves this honor…and Packer Fans need to do their part to vote for him daily.
Just click on the pic below to take you to the voting page!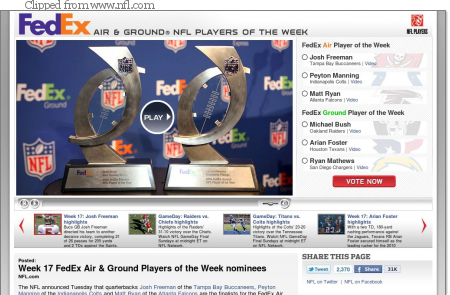 Aaron Rodgers, Green Bay Packers:
Rodgers finished in the top 10 in nearly every major passing category this season, posting a 101.2 passer rating (third-highest), passing for 3,922 yards (seventh-highest), throwing 28 touchdowns (tied for sixth), posting a 65.7 completion percentage (sixth), and throwing 40 25-yard passes (second). Rodgers' 3,922 passing yards this season brought his total in three seasons as a starter to 12,394, ranking second in NFL history behind only Kurt Warner (12,612, 1999-2001)for the most passing yards by a quarterback in his first three seasons as a starter.

Rodgers posted a passer rating of at least 110.0 during Week 9 & Weeks 11-13 making him him the only quarterback since 1970 to post a passer rating of at least 110.0 in four consecutive games in back-to-back seasons. Rodgers was nominated for three FedEx Air NFL Player of the Week awards in 2010, winning twice.