Green Bay Packers QB Aaron Rodgers' "Championship Belt" celebration has taken on a life of it's own.
As Packers fans, we've all seen the celebratory invisible belt when he makes a nice throw or a first down. It has always been fun for us to watch and boy did we have a lot to celebrate this year!

For those, not in the know, they call it the "hip thrust", which it is not. I have a feeling this going to go way past the Super Bowl and way past the Packers.
But now..the belt, or being "belt worthy" is getting to be a national phenomenon. Every one is doing the belt these days.. just take a glimpse of Twitter tweets mentioning the belt: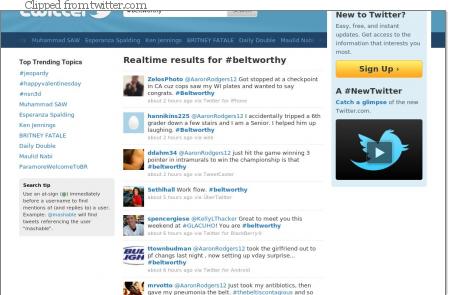 Tags: Aaron Rodgers Belt Worthy Championship Belt Celebration Green Bay Packers The Belt