 What's wrong with this picture?
SI.com's recently released list of the top 50 highest paid American athletes is still led by that philandering fool Tiger Woods, but contains just three NFL stars in its top 10. In addition to Woods, second place also goes to a pro golfer, Phil Mickelson.
But surprisingly, the list's top 10 only includes these three NFL star quarterbacks: Payton Manning, Matt Ryan, and Tom Brady. The list includes four NBA stars: LeBron James, Kobe Bryant, Kevin Garnet, and Dwight Howard.
Rounding out the top 10 is the Yankees' Alex Rodriguez.
Surprising to me is how much golfers Woods and Mickelson make in endorsements. Woods makes $60 million, while Mickelson checks in at a cool $57 million. That's a lot of selling of cars and golf clubs.
I guess they have to pursue the endorsements because they only make $2.2 million (Woods) and ($4.4 million) Mickelson, respectively, in earnings.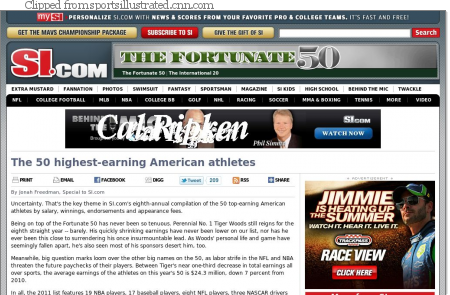 But let's take a look at the three NFL star quarterbacks on this list. Payton Manning leads the group with earnings of $38 million – $15 million of earnings through endorsements (clearly, his commercials are funny).
However, surprisingly in second is Matt Ryan, the second-year star for the Atlanta Falcons. He clocks in with total earnings of $32 million, but only earns $450,000 in endorsements. Do the math and you will see that he makes much more than either Manning and Tom Brady, who comes in at $20 million … Of which he must schlep for $10 million through endorsements.
So here you've got a quarterback going into his third season making more than Tom Brady, the multi-winning Super Bowl champion. Ryan hasn't even won a single playoff game yet … I guess nobody said life is fair, but it surely is a good argument for the rookie salary cap in the NFL. If I were Brady or Manning, I would certainly be for it.
Sam Bradford, the St Louis Rams' first round draft pick last year, is another argument for the salary cap – he makes $26 million and change for being the top pick … the Rams hope their investment pays off … We'll see.
But looking at the bigger picture, NFL stars don't dominate the list.
Surprisingly, only eight NFL players make the list. The NBA (19) and MLB (17) make up the majority of the list.
It's a list with gaudy numbers for many who may be stars in their own rights, but many who rely on face recognition for extra bucks. Many on the list have not won championships of any kind in their respective sports … Are they worth the dollars they reap?
Apparently … that's the American way!
Tags: Alex Rodriguez Dwight Howard LeBron James Matt Ryan Payton Manning Phil Mickelson Sam Bradford SI.com Tiger Woods Tom Brady