Here's a quick look at the weekend's surf around the Internet … As the league inches closer to the CBA, stories about what will transpire have hit cyberspace.
The Green Bay Press Gazette takes an indepth look.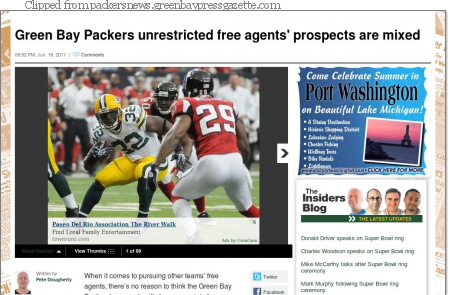 No matter the rules, teams will have to be ready for fast decisions and lightning negotiations on restricted and unrestricted free agents alike. They've had an extended offseason to plan, so they at least can go in with well-thought priorities. But they still will be deciding numerous important personnel matters over just a few days.
Brandon over at Acme Packing Company has been taking a closer look at the Packers receiving corps of 2008 and 2009.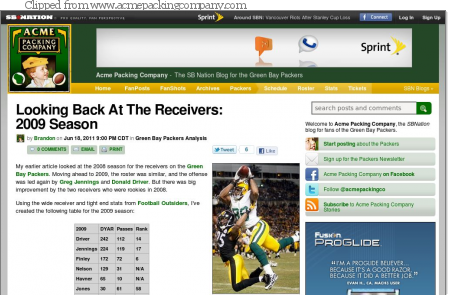 There were two big changes. First,

Jermichael Finley

took over from

Donald Lee

, and for good reason. Finley was turning into a big playmaker, while Lee was having trouble with dropped passes. Second,

James Jones

was healthy for the entire season (he missed part of 2008 with a knee injury), he regained the No. 3 WR spot, and his production didn't deserve it.

Jordy Nelson

improved on his rookie season despite having nearly 40% fewer pass attempts thrown his way.
Cheesheadtv.com reports on an internal battle building within the ownership camp …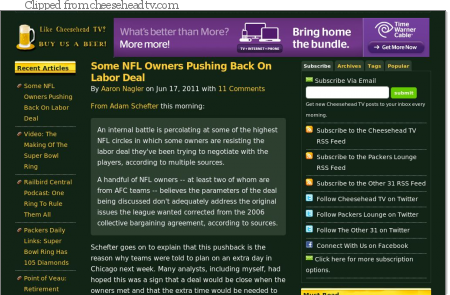 From Adam Schefter this morning:
An internal battle is percolating at some of the highest NFL circles in which some owners are resisting the labor deal they've been trying to negotiate with the players, according to multiple sources.
And we can't leave today without at least one mention of Brett Favre. Michael Hunt of jsonline asks the question …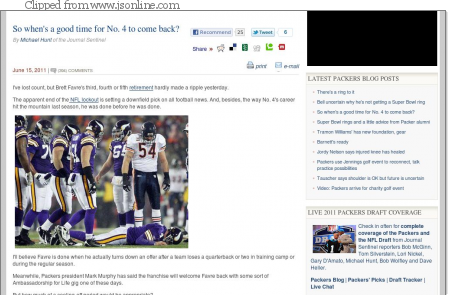 I've lost count, but Brett Favre's third, fourth or fifth retirement hardly made a ripple yesterday.

The apparent end of the NFL lockout is setting a downfield pick on all football news. And, besides, the way No. 4's career hit the mountain last season, he was done before he was done.
And with that, we hope this week brings better news about the negotiations pertaining to the collective bargaining agreement so that we can start thinking about the start of training camp.
Tags: Aaron Rodgers Acme Packing Company Brett Favre Charles Woodson Cheeseheadtv.com Chicago Bears Clay Matthews Donald Driver Green Bay Packers Green Bay Press Gazette JSOnline Mike McCarthy Minnesota Vikings NFC NFL Packers Headlines Ted Thompson Winning Isn't Everything, It's The Only Thing