While surfing the Internet on a rainy Sunday afternoon looking for interesting stories about the Packers, I couldn't help but notice this post on Bleacher Report from Ryan the Broker: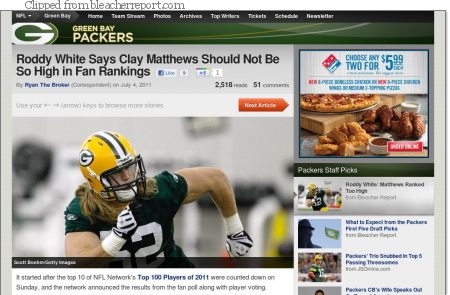 I couldn't believe it …
yeah, he may have a point about Clay Matthews being voted fifth best player in the NFL, but this was coming from a guy who, in my opinion (which you can see here), was rated way too high himself.
How could he be rated nearly 50 spots ahead of Packers receiver and Super Bowl star Greg Jennings?
It seems to me that what we are seening in this exchange of tweets with White is extreme jealousy from a guy who was the star receiver on the number one seeded team in the NFC playoffs last year and disappeared in that whitewash put on the FLacons by the Packers last year.
Do you remember that game, Mr. White? The one where the Packers scored nearly 50 points and kept the Falcons offense to one touchdown?
Oh yeah, I'm sure you won't want to remember that sorry night … the embarrassment must have been overwhelming.
We're sure the animosity you show now is a direct reflection of you backside sores you're still suffering from because of that one particular game.
Sure, you lit up the league during the season, but when it came to the game you really needed to win, you disappeared.
Maybe it was because of that Matthews-led defense that melted Matty Ice and cut off every route you ran … probably.
Let's just hope you run only go routes next year and have to stay away from those routes over the middle. No doubt, there will be players looking for you …
I suggest you keep your mouth shut and play football.
After all, we know the Top 100 list was just one of many produced in this season of the lockout . ., it's only a popularity contest. What matters is what's left on the field and the last team standing with the Lombardi Trophy … we all know that wasn't the Atlanta Falcons last year, nor will it be the Falcons this year.
Tags: Atlanta Falcons Bleacher Report Clay Matthews Green Bay Packers NFC NFL Roddy White Winning Isn't Everything, It's The Only Thing