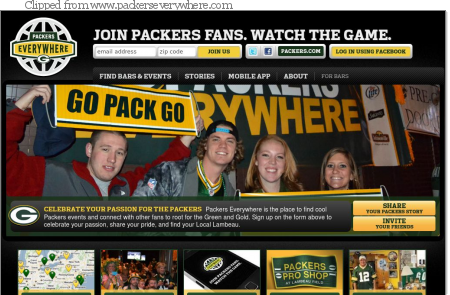 Whether you live a block away from Lambeau Field or clear across the country, this is good news …
Packers fans share not only their undying love of a franchise that extends across generations, but an undying thirst for everything that is Green Bay … But most important is their love of getting together at game time.
Short of attending a game at Lambeau Field, what's better than being in a room filled with fans wearing the green and gold, enjoying a couple of cold ones and hooting and hollering with each touchdown and win?
Well, now it's just gotten a whole lot easier thanks to the new website at www.packerseverywhere.com.
Here you will find all that every fan might want in finding information about where and when to watch the Packers.
At this site you will find stories posted by fans, where to watch games throughout North America, bars can sign up to be included and you can even download an app to have access to the information from anywhere.
Not only that, but you can visit the Packers Pro Shop and access the site through Facebook and Twitter.
Check it out … You won't be disappointed, especially for those looking forward to spending time with other Packers fans as the team heads toward a season of defending its championship.
Tags: Green Bay Packers Where To Watch The Green Bay Packers