Greg Couch, a Chicagoan who has been published in a number of big-time publications writes about the Brewers vs. the Cubs and Packers vs. Bears, explaining why the hate factor has been amped up the past couple of years and why things aren't likely to improve for the fans of Chicago teams in the near future.
We can only say Touché, Mr. Couch. We couldn't have said it any better.
And so, without further ado, I present to you the column so brilliantly crafted by Mr. Couch.
If you're a Packers or Brewers fan, relish in the moment; if you're a Bears or Cubs fan … well, too bad.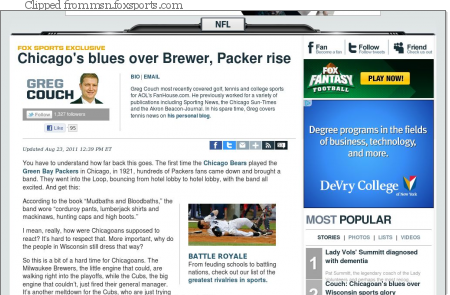 Clipped from:
msn.foxsports.com
(
share this clip
)
Tags: Brewers Vs. Cubs Rivalry Chicago Chicago Bears Chicago Cubs Green Bay Green Bay Packers Greg Couch Illinois Milwaukee Milwaukee Brewers Packers Vs. Bears Rivalry Wisconsin