It's all speculation at this point as those in the know aren't saying, but WBAY-TV in Green Bay is reporting that Lady Antebellum and Maroon 5 will be headed to Green Bay for the Sept. 8 NFL kick-off festivities.
As Super Bowl champions, the Packers are honored this year with the first game of the season and Super Bowl-like festivities that will have the league's smallest venue rocking under the lights of a national and international audience.
The report by the Green Bay television station goes into depth about the rumors that have the Black Eyed Peas coming to town, but nobody's confirming that rumor either.
For the complete story that was just released minutes ago, here's the link: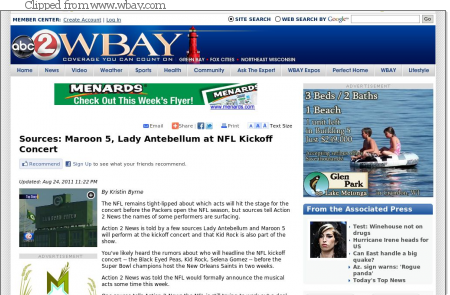 http://www.wbay.com/story/15328390/2011/08/24/sources-maroon-5-lady-antebellum-at-nfl-kickoff-concert
Tags: Black Eyed Peas Green Bay Packers Kid Rock Lady Antebellum Maroon 5