So there's this game tomorrow night – something about something happening in Green Bay?
Have you heard about it?
Probably. So have I.
So has President Barack Obama.
So has just about everyone else on the planet.
And everyone's talking about it … that's why I'm going to give you a break. I'm going to talk about something very near and dear to my heart: photography.
But because you're here on a Packers site, we've got to talk about one of the most fun teams in the NFL to photograph – the Green Bay Packers. I know I've been there. Done that.
But there's one photographer that I would like to talk about tonight – he's Evan Siegle, one of the official staff photographers of the Green Bay Press Gazette. This young guy has shot many, many Packers games and has some recent shots that are near iconic in status.
So impressive is his work that his photos will be on display at St. Norbert College's Bush Art Center throughout September. But it's not just his work as a Packers photographer that has this show popping.
In fact, some of his portraits of high school athletes from around the area also have people's heads turning.
A story recently posted on the newspaper's website says that Siegle has been a photojournalist with the organization since 2002 and that like all photographers he cites preparation, timing and luck as the three ingredients that have made him successful.
And he's right.
But one thing that he doesn't add to that list is anticipation.
A photographer, especially a sports photographer, does get lucky most of the time, but that's because he's prepared, has the right timing, but also the knowledge and background to anticipate the shot.
The results show that.
So, while others are reading about the matchups between Brees and Rodgers and Woodson and whoever plays tight end for the Saints, take a time out and visit the GPG website and gander at some of Siegle's best works.
Yes, he will be preparing for tomorrow night's game as well, thinking about his timing and luck and anticipating what is to be one of the best days in Green Bay Packers history.
What: "Evan Siegle: Still Moments/Peak Action"
When: Opens today and runs through Sept. 30. Regular gallery hours are 9 a.m.-4 p.m. Monday-Friday.
Where: Baer Gallery, Bush Art Center at St. Norbert College, 100 Grant St., De Pere
More: A reception will be held from 6:30-8:30 p.m. Sept. 9. It's free and open to the public.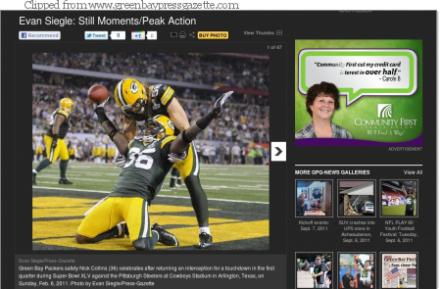 Clipped from:

www.greenbaypressgazette.com

(

share this clip

)
Tags: EvanSiegl Green Bay Packers Green Bay Press Gazette Photography