Matt Bowen of the National Football Post has his own five points to consider about tonight's matchup between the Packers and Saints (see link below).
Just like everyone else, Bowen talks about player match-ups, defense and offense. There are some who consider the weather, the team mascots (the Packers have none, do the Saints), and which companies will be sponsoring the blimp.
Well, I thought I would also throw in my fair share before game time, so here goes:
• Packers running game: How will Coach McCarthy utilize Ryan Grant, James Starks and Alex Green? Will he need to keep them in the backfield for pass protection? Will he run some screens? The running game could be key for the Packers for nothing more than ball control and keeping the Saints' offense off the field.
• The offensive line: If the line can give Rodgers enough time for the long pass plays to develop, he will carve up the Saints' defense. Though Rodgers is one of the best in converting passes while on the run, it would be nice to see him sit in the pocket and find receivers. The offensive line also has to do a better job than they did in preseason in opening holes for the run game. And most of all, they have to escape without any major injuries.
• Packers defensive line: It will be interesting to see how this group performs without the services of Cullen Jenkins. With Raji as the base, this group has to stuff the Saints' potent run game and put pressure on the quarterback if they are going to contain the Saints' offense tonight. If they can pressure, the defensive backfield will pick off a couple, which could be the difference in the game.
• The return of Jermichael Finley: If the talented tight end can get open down the middle, he could break some big plays. However, McCarthy has to remember what won the team a championship last season – the wide receivers. If he can spread the ball around, establish an adequate running game and control the clock, the Packers will win going away. That all includes getting Finley involved early and often.
• The Packers secondary: Known as one of the best in the league, the Packers defensive backfield will have to earn their money tonight against one of the best quarterbacks in the league, if not one of the best of all time. No doubt, Dom Capers will come up with a solid scheme, but they can't sit in a shell all night. They have got to be aggressive, take some chances and hope for a tipped ball or two and a bit of luck.
Oh yes, I almost forgot – here's what Mr. Bowen had to say …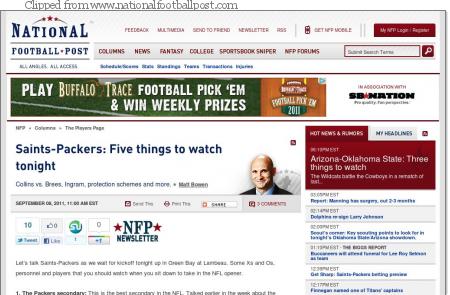 Tags: Aaron Rodgers Alex Green B.J. Raji Chad Clifton Charles Woodson Clay Matthews Dom Capers Donald Driver Drew Brees Green Bay Packers Greg Jennings James Starks Jordy Nelson New Orleans Saints NFC NFL Ryan Grant Ted Thompson Tramon Williams Winning Isn't Everything, It's The Only Thing