We're pretty sure that if you're a Saints fan, you might want to turn away or even move on, but for Packers fans, we just have to keep watching.
Yes, there were plenty of warts in Thursday's game, but the team was able to overcome it all.
It's ironic that there were more than 80 passes thrown in this game and more than 900 total yards gained by two of the most efficient offenses in the league, but it was the Packers' defense that ended up with the game-deciding plays in the game.
So anyway, with a full weekend of football yet to watch, we don't have to worry about Carolina for a while. So take some time and spend it watching these great highlights… Enjoy.
http://www.nfl.com/videos/nfl-game-highlights/09000d5d82211f48/Saints-vs-Packers-highlights?campaign=Twitter_videos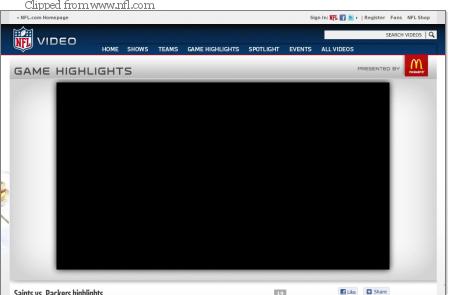 Clipped from:

www.nfl.com

(

share this clip

)
Tags: Aaron Rodgers B.J. Raji Chad Clifton Charles Woodson Clay Matthews Dom Capers Donald Driver Green Bay Packers Greg Jennings James Jones New Orleans Saints NFC NFL Nick Collins Randall Cobb Ryan Grant Tramon Williams Winning Isn't Everything, It's The Only Thing