He looked nervous smiling into the camera and being behind the microphone in his debut as a color man on a college football television broadcast, but Former NFL legend and future Hall of Famer Brett Favre seems to be handling his newest career with confidence – something he never lacked on the field.
For a clip of the former Packer, Jet, and Viking …
Favre made his debut last week in a game featuring his alma mater, Southern Mississippi against Rice, and though the thought of having to describe a game was probably more nerve-wracking than looking into the eyes of Brian Urlacher, it seemed as though Favre's performance was pretty solid.
We here at Lombardiave couldn't be happier that Favre is finally seeing the light and doing something other than playing quarterback. There is life after football and after his great career, it's time he gets to do something else that he just may fall in love with.
Good luck, Brett, with the new career. Let's hope it lasts.
The Green Bay Press Gazette provided this story about Favre's newest venture. You can also enjoy a clip there or just click on the clip above.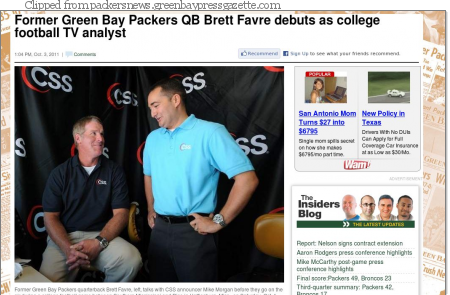 Tags: Brett Favre Green Bay Press Gazette Rice Southern Mississippi