Well, I guess everyone knew it was inevitable that when October rolls around and another quarterback goes down to injury – this one being the Raiders' Jason Campbell who suffered a broken collarbone – that the moniker of "he who should not be named" would be raised.
Yes, Brett Favre's name has been floated as one that the Raiders should be considering or at least getting on the phone.
NBCs Pro Football Talk has posted (see below) a piece on how Favre is not on the Raider radar yet, but could be … mainly because it's been known for a while that though he's retired, Favre might be coaxed out of retirement for a partial season and also with John Madden working as an advisor for new owner Mark Davis, PFT thinks Madden may put in a plug for Favre.
What's also interesting is that should Favre be considered and the unimaginable occur with a signing, the interest in the Oakland vs. Green Bay tilt scheduled for Sunday, Dec. 11, could take on a whole new meaning.
For the PFT post, see below.
Oh, and don't forget to Like us on Facebook and follow us on Twitter.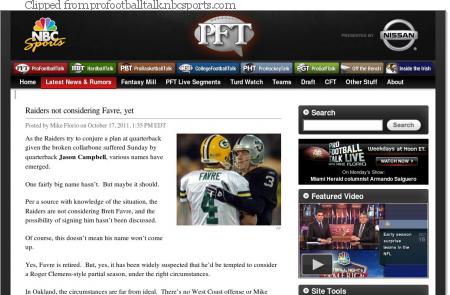 Clipped from:

profootballtalk.nbcsports.com

(

share this clip

)
Tags: Brett Favre Green Bay Packers John Madden Mark Davis Oakland Raiders