If there's one thing that's for sure about the Minnesota Vikings as they prepare for their matchup against the unbeaten Green Bay Packers, it's that their fan base, and most notably the media, is disgruntled about how things have transpired to date with their beloved purple.
Take, for instance, this morning's column by Tom Powers of the Pioneer Press (see below). It pretty much says it all about his feelings toward the team, its coaching staff and the team's upper management for which he has much disdain.
He talks about the team's decision to start rookie Christian Ponder against the world champions and its possible long-term ramifications.
Below is a quote about what he thinks about the rookie's talents.
One thing we can be absolutely certain of is that we will see a frenetic, helter-skelter game when Ponder is on the field. He is all over the place running, jumping, ducking, throwing and tumbling. The few times we've been able to watch him to date, including exhibition games, Ponder has displayed a frantic, almost playground style.
To get the full feeling of Powers' message, see the link below.
But before you do that, be sure to Like us on Facebook and follow us on Twitter.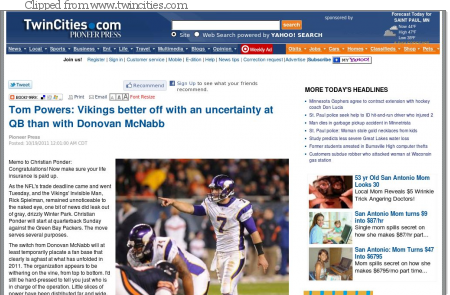 Tags: Christian Ponder Green Bay Packers Minnesota Vikings Pioneer Press Tom Powers