The rush is on in the voting for a cute little promotion being offered out there.
But considering that the winner gets a whole bunch of prizes as well as a Super Bowl package, it becomes a little more than just cute.
It's DirecTv's www.UltimateDisplacedFan.com contest.
The basic tenet is that you have to be a relentless fan of an NFL team and you must live way far away from the team's home city and state.
And while all the finalists have been chosen, you can still go to the site and cast your ballot for your favorite.
Here's a look at last year's winner, a Ravens Fan living in North Carolina. Think you die-hard Packers fans could beat this?

http://www.ultimatedisplacedfan.com/past-winners/
To vote for this year's Packers entry, Ted McCallie, a Packers fan from Arkansas who is in the current top ten and is missing Christmas with his family this year to attend his first NFL game, the Packers vs. the Bears at Lambeau, visit here.
http://www.ultimatedisplacedfan.com/view-and-vote/?id=69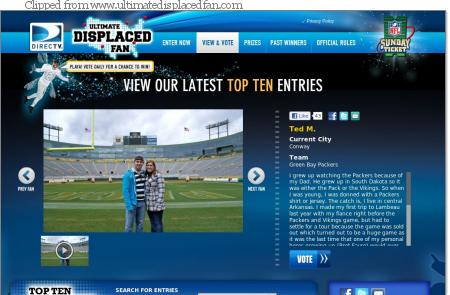 Clipped from:

www.ultimatedisplacedfan.com

(

share this clip

)

Last year's Packers fan finalist, Justin Hind, was from Philadelphia. You can also watch his video at http://www.ultimatedisplacedfan.com/past-winners/

So take some time and cast your vote. You can vote once per day.
Tags: Green Bay Packers Green Bay Packers Fans Ultimate Fan Contest