It's not often that I get to talk about the Green Bay Packers, Vince Lombardi, the Pittsburgh Steelers and the Milwaukee Reperatory Theater all in one gulp, but I'm honored to do so right here.
You see, there's a production now in its run at the theater about a famous coach and one of the employees at that theater just happens to be a Steelers fan … and not just a Steelers fan … Craig Gottschalk is also the editor and lead writer of Fansided.com's own Nice Pick, Cowher.
As an employee at the theater, Gottschalk posted a recent blog about his experiences in preparing for "Lombardi," the Broadway smash hit about the Packers great head coach, citing his slow evolution toward understanding what being a Packers fan is all about.
He describes having to endure his beloved Steelers losing to the Packers in last year's Super Bowl, and then turning around and having to spend months in preparing for the "Lombardi" run at his own theater. Bittersweet though it was for him, the process melted some of the ice in Gottschalk's heart toward the Packers as the show neared and finally opened.
If you are a Packers fan … or even a Steelers fan, you've got to read about this incredible homage to Lombardi … in fact, you might even want to go online here to get your tickets for the show whose run has been extended through Nov. 20.
Gottschalk's view of the the Packers through Steelers' eyes is refreshing and humbling for all football fans … after all, Gottschalk says, "It's only a game." His self-realization brings us all back to earth … and his description of rubbing elbows with the greatness of Bart Starr, Paul Horning and Packers fans in general is just plain fun.
You've got to read Gottschalk's piece in full here … you will enjoy every word of it.
And while you're at it, don't forget to Like lombardiave.com on Facebook and follow us on Twitter.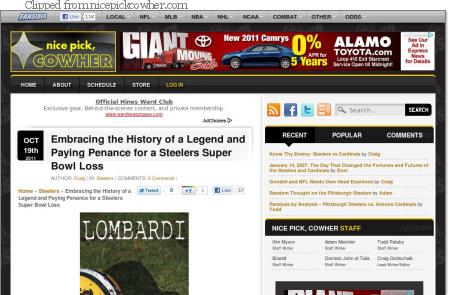 Tags: 'Lombardi' Bart Starr Cowher Craig Gottschalk Milwaukee Reperatory Theater Nice Pick Paul Hornung Pittsburgh Steelers Vince Lombardi