Maybe Deion Sanders knows more than most would expect.
You see, it was one month ago that Sanders went on record saying he felt the Bears had a better chance of challenging the Packers for the North Division title or at least to take over second best in the division.
At that time, Sanders was heard on the NFL Network saying that he "loved the Packers," but it was the Lions who got a tongue lashing at the time … the other hosts on the program attacked Sanders and questioned his logic.
Well, after the last couple of weeks, Sanders is all of a sudden looking like a genius. With the Lions dropping two straight in the friendly confines of Ford Field, it looks like this team is simply ordinary. Losing to San Francisco and Atlanta, the Lions had little teeth in either its offense or defense.
Couple that with the injury to quarterback Matthew Stafford and the Lions' immediate future is foggy. Sure, they play at Denver this week and sure, they have a solid backup to Stafford in Shaun Hill, but the team is still undergoing some major changes that will have to be corrected quickly if Detroit has any hopes of derailing the Packers.
That Thanksgiving Day match-up has taken on a different flavoring the past couple of weeks as the Packers remained unbeaten heading into their bye week, while the Lions fell two behind and the Bears just a game out of second place.
Deion Sanders, after all, may have known something all along.
See the original story below: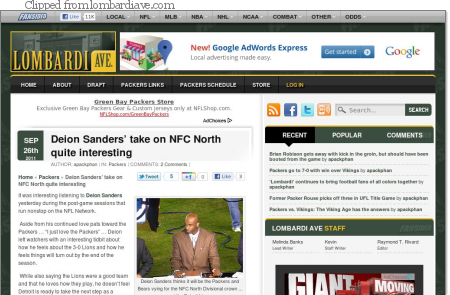 Tags: Atlanta Falcons Chicago Bears Deion Sanders Detroit Lions Green Bay Packers Matthew Stafford NFL Network San Francisco 49ers Shaun Hill