The Chicago Bears are in a quandary over running back Matt Forte.
For Packers fans, it's good news whenever an opposing team's player is having outside distractions … most especially when he plays for a divisional rival.
But Forte, the Bears' biggest contributor on a lackluster offense, his search for a big payday probably won't be happening in Chicago.
The Chicago running back is obviously upset at what's been transpiring … or rather a lack of consideration on management's part to keep him in the fold.
Saying the Bears are "Grinding me to a pulp," Forte is intimating he doesn't want to play under the franchise tag … no, he's actually saying it's not a viable option.
You might consider Forte's plight with that of the Packers' Jermichael Finley, who said this week that he wouldn't mind playing under the franchise tag just to be able to stay in Green Bay, though he would rather sign on with a long-term contract.
To get a better feel for what Forte's going through, see the link to the story below.
And while you're at it, take a spin to Lombardiave.com's Facebook page and Like us … and don't forget to follow us on Twitter.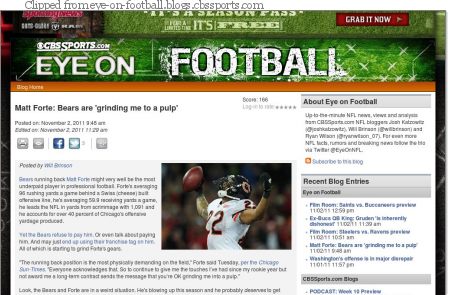 Tags: Chicago Bears Matt Forte