Julie Wroblewski, the features writer for The Lakeland Times in Minocqua, Wisconsin, is a Detroit Lions fan.
But that didn't affect her one bit when she caught up with the Bartosz family members who described their love of Green Bay Packers' quarterback Aaron Rodgers and what he has done for their son, Jack.
Through the MACC Fund, Rodgers has brought Jack and his family … and many other families facing juvenile cancers … a renewed hope and appreciation for life.
Rodgers has met with and inspired Jack, whose grandmother, Julie Detling, is a former English teacher at Lakeland Union High school in Minocqua – the school that's covered by The Lakeland Times.
Rodgers' phone calls on Jack's birthday have always brought a smile to the youngster and their other meetings have been a highlight for the family, including his parents, Sarah and John Bartosz of Hartland, and his grandparents, Julie and Andy Detling of Manitowish Waters.
In Wroblewski's story, the family talks about the challenges families face when their young children battle cancer, but it also paints Rodgers as the caring, loving man that people don't see on the football field. It also describes the I Back Jack Foundation which was started by the Bartosz family.
This is one story that you don't want to miss. You won't find it on any sports page, but you will find it in The Lakeland Times …
Check it out by clicking here …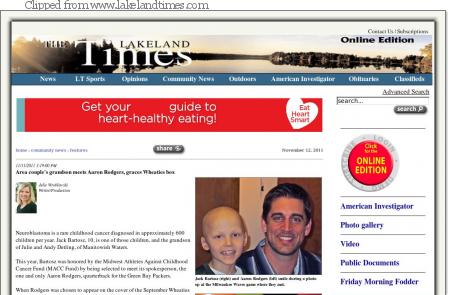 Tags: Aaron Rodgers Detoit Lions I Back Jack Jack Bartosz Julie Wroblewski Lakeland Union High School Minocqua Wisconsin The Lakeland Times The MACC Fund