It's been a tough year in Wisconsin.
From the sky-highs of February's Green Bay Packers' Super Bowl championship to the center of the political fight between unions and the conservative political wonks who took cost-cutting steps to balance budgets to the roller coaster rides of the Milwaukee Brewers and UW-Madison Badgers, and the continuing recall cycles that have thrown both electors and the system out of whack.
Throw in the loss of jobs, low consumer confidence and an uncertain economy and one could say that these ties are tough at best, disastrous at worst.
The only constant and the one entity that continues to pull Wisconsin residents to a positive pole is the Green Bay Packers. Their unbeaten streak is not only exciting for us all, but a phenomenon that is catching on across the country and the world.
That's why we love this team.
Consider that Reuters took the time to write about the good the Packers are bringing to Wisconsin – a story that describes the political divisions, but counters it with statistical surveys that overwhelmingly show Aaron Rodgers and the Packers as the only unifying force emanating across and throughout the state and beyond.
I'll let the story speak for itself. Give it a read.
You might start to feel better …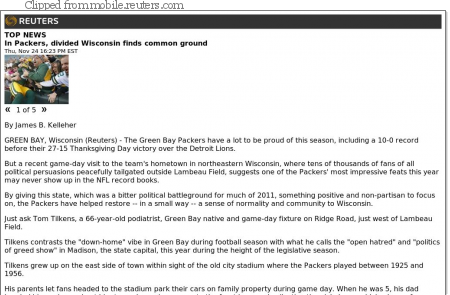 Tags: Aaron Rodgers Green Bay Packers Milwaukee Brewers Reuters UW-Madision Wisconsin Wisconsin Badgers