During this week of hyperbole, exaggeration, breast- and brow-beating, I thought I would provide a chance to take a bit of a different look at what's happening out there and maybe what some of the other more "sane" writers and individuals are saying about the Packers vs. Giants matchup Sunday.
I start with "The Fifth Down," one of my favorite pieces offered by The New York Times. While it talks about things that are the NFL, most of the time it's a unique look. What you see below is a case in point.
The headline pretty much says it all, but it's contents will not only warm your heart on this chilly January day, but it will make you feel downright good to be a Packers fan and, if you are from Green Bay or Wisconsin, it will make you really happy. That's certainly something we need at this point in time given the emotional roller coaster ride we've been on this week with the announcement of the death of Joe Philbin's son.
So, take a look at the piece below … there will be more on the way today, tomorrow and leading right up to the start of Sunday's game.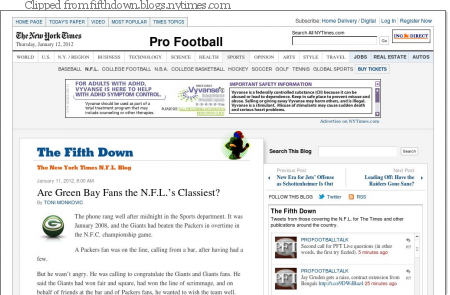 Tags: Green Bay Green Bay Packers New York New York Giants New York Times Packers Vs. Giants The Fifth Down