Do you need to question just how important football is to fans in Green Bay, Wisconsin?
All you have to do is take a look at how many showed up to help clear the snow out of Lambeau Field today.
Though they are paid a nominal amount, folks from all walks of life show up. The Packers will put out a call the day before, asking folks to come to the stadium to help clear the snow for the coming weekend's game.
Of course, all games are important, but this weekend's NFC Divisional Playoff showdown with the New York Giants makes the task even that much more important. It's a game that will have national exposure, so Packers officials surely want the stadium looking spiffy and for fans to have the best experience.
Though hardy already, Packers fans would certainly not be offended by having to sit with their family and friends in snow, but it's also a safety issue and the Packers surely want all fans and visitors to Lambeau Field to have a great and safe experience.
So, dozens, maybe even hundreds showed up this morning …
A nice story was done this morning by Kevin Seifert, the ESPN NFC North writer.
Check it out here or below …
And while you're at it, check out Lombardiave.com on Facebook and follow us on Twitter.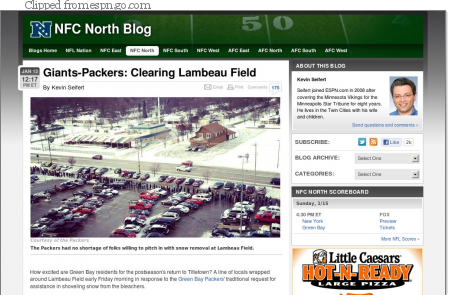 Tags: ESPN Green Bay Packers Lambeau Field New York Giants NFC Divisional Playoffs