Rob Demovsky of the Green Bay Press Gazette got together yesterday with Joe Tufaro of GMen HQ to talk about this weekend's NFC Divisional Playoff game between the Packers and Giants.
Demovsky, who loves talking and writing about the the Packers (not only because he's paid to do it, but because he seems to truly love it), spent about 15 minutes fielding questions from Tufaro. During their time on screen, they touched on a number of issues ranging from the two teams' similarities on a historical perspective to the X's and O's that they expect to be important in Sunday's game.
I think you would enjoy listening in to the discussion and that's why I posted it below.
Enjoy.
Also take some time to Like Lombardiave.com on Facebook and follow us on Twitter.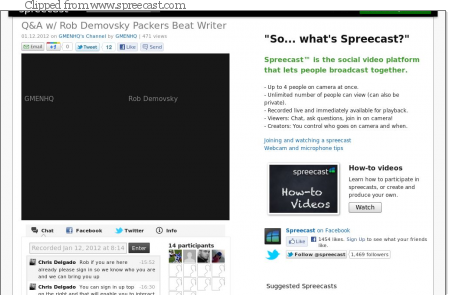 Tags: GMenHQ Green Bay Packers Green Bay Press Gazette Joe Tufaro New York Giants NFC Divisional Playoff Rob Demovsky