The past couple of days I've been pointed toward a couple of postings, one a blog from Gene Nicolet, whose work I've posted before, and the other a "press release" from Kurt Redenbo, a gentleman who is a member of the Maryland Cheeseheads (yes, there are cheeseheads in Maryland).
I have to share these two postings with you … beware: both of them will probably make you fall out of your chair.
Whether it's Nicolet's tongue-in-cheek references about which New York Times writer is best to come to Green Bay to see us "classy" fans or Redenbo's romp through descriptions of his new "products" to entice Packers fans (and all football fans, for that matter), these are worth reading.
Given that the Packers are playing their most important playoff game to date tomorrow, it's time to step back a bit from all the shouting heads, take a breath and enjoy life's funny side.
These two postings will do just that. Click on the links below and enjoy … and don't forget to Like Lombardiave.com on Facebook and follow us on Twitter.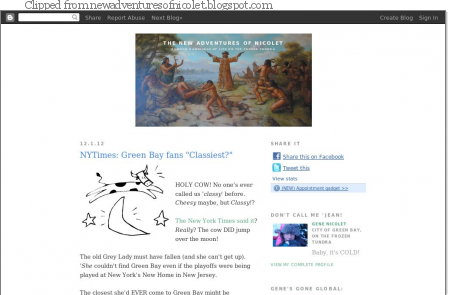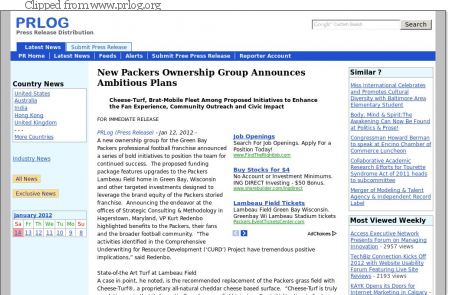 Tags: Gene Nicolet Green Bay Green Bay Packers Kurt Redenbo Maryland Cheeseheads New York Times