Chad Moriyama is a blogger who writes mostly about the Los Angeles Dodgers, but admittedly strays toward other subjects when the need strikes him.
Such was the case when he posted a recent blog about the situation with Ryan Braun, the Milwaukee Brewers' and Major League Baseball's MVP.
Why talk about baseball here on a football site? It's because Braun's situation goes well beyond baseball and impacts all of sport, most importantly that of football.
Moriyama's blog, "Ryan Braun: What you don't know about his case is important," strikes at the heart of the emotion surrounding the decision to rule his suspension null and void – a decision many said was because of a technicality. While on the surface that explanation may hold some water, when one looks deeper into the case it's clear that there are plenty of holes and plant of leaking water.
Whether Braun is guilty of using banned substances or not is a moot point now. MLB and Bud Selig can cry in all the beers they want – it won't change the decision. What baseball brass and NFL officials need to take away from this is the importance of getting it right. And even more important is that the media has to learn not to jump for the jugular without first studying an issue. There are too many people who form judgments based on skimpy information … those judgments blow up on the Twitter and Facebook platforms and leave a trail of destruction behind. That doesn't do anybody any good.
With the NFL attempting to institute HGH testing for players, they better take a close look at the Ryan Braun case and they also need to read this particular blog. They may learn a lesson or two.
I suggest you slide on over and read Moriyama's blog and take a step back to reflect. That's something we all need to do.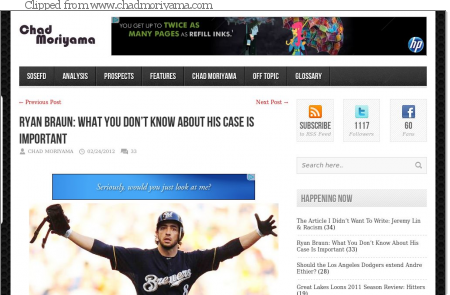 Tags: Bud Selig Chad Moriyama HGH Milwaukee Brewers MLB MVP NFL Ryan Braun