Paul Imig, the Green Bay Packers beat writer for FOXSportsWisconsin.com, takes an honest, up-to-date, refreshing look in this post at Tony Mandarich, that great hulk of a player who was going to be the savior of the Packers back two decades ago.
We all know Mandarich as a failure, a bust who was selected one pick ahead of Barry Sanders in the 1989 NFL Draft. Mandarich survived three unimpressive seasons with the Packers before dropping out of football for several years and then making a solid comeback to play three years with the Indianapolis Colts. A shoulder injury permanently ended his career.
But Imig takes us beyond the hype, the bust and the man many believed was an uncontrollable, maniacal player who once called Green Bay a "village."
Though not well liked among Green Bay fans, those who feel that way should take a look at Imig's column. He talks to Mandarich, to one of his employees and even to former Packers Hall of Fame safety LeRoy Butler to paint a much deeper and understanding picture.
Mandarich is a dedicated business owner, a husband and a former NFL player who has worked hard in establishing his business and even harder in keeping it going.
This is an interesting and thorough look at a former player who is grateful for the opportunity, but has taken his failure one step further by succeeding in life.
Take a look at this post. I'm certain you will come away with a much better feeling about Tony Mandarich. Something that I'm sure you'll feel good about and something that Tony Mandarich would appreciate.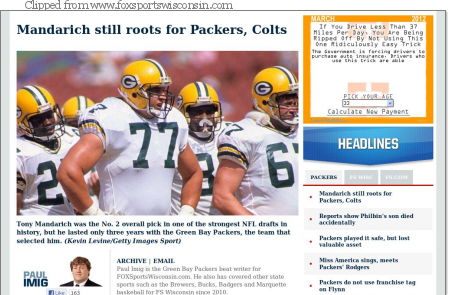 Tags: 1989 NFL Draft Barry Sanders FOXSportsWisconsin.com Green Bay Packers Indianapolis Colts LeRoy Butler Paul Imig Tony Mandarich