While the rest of the NFL annually explodes with excitement and anticipation with the start of the free agency period, something that begins tomorrow, you could probably shoot a cannon down the inactive hallways at 1265 Lombardi Avenue, tap Ted Thompson's phones, and probably even have a double martini lunch with the Packers general manager on the day when players and agents start calling on potential suitors.
That's because while Thompson is most likely busy with other things, such as homing in on his draft choices, we can take it to the bank that he's not doing a lick about free agency.
Since Thompson took over more than a half-decade ago as the Packers GM, he has always said that his modus operandi is to build through the draft. Free agency is an anomaly … with Thompson's only significant foray into the field of experienced veterans was when he signed the unwanted Charles Woodson and Ryan Pickett.
Ironically, the last free agent signed by the Packers was March 27, 2009, when they signed center/guard Duke Preston.
Who?
Yes, it's been three years and given the success of Mr. Preston with the team, maybe there's a reason for Thompson's inactivity.
Anyway, in preparing for the start of tomorrow's free agent signing period, the Green Bay Press Gazette has put together and interesting, informative and complete list of free agents that will enjoy bargaining with teams other than the Packers.
See the list here or click on the link below.
And while you're at it, Like Lombardiave.com on Facebook and follow us on Twitter.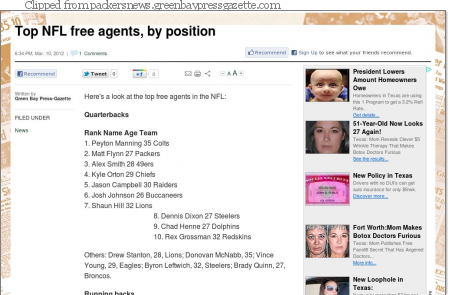 Tags: 1265 Lombardi Avenue Duke Preston Free Agency Green Bay Packers Green Bay Press Gazette NFL Ted Thompson