Coming across this video put a big smile on my face … it's a look at the Lambeau Leap and why it has become one of the iconic celebrations in the NFL.
You might remember that cold December day way back in the 1990s when Reggie White lateraled the ball to safety LeRoy Butler who rushed into the end zone and jumped into the stands to start a trend that wouldn't go away. And rightly so. He started something that's become a right of passage for Packers players who score touchdowns. Their first jump into the laps of fans brings them that much closer to greatness. It puts them into that special ring of honor that has become such an important part of Packers lore.
If you've got five minutes to take a look at the video below, you won't be disappointed. No doubt it will bring a smile to your face as well.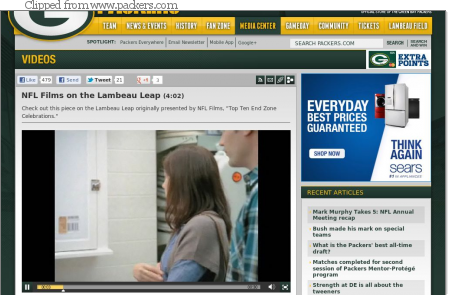 Tags: Green Bay Packers Lambeau Leap LeRoy Butler Reggie White