It's going to take a lot to convince Green Bay Packers head coach Mike McCarthy and general manager Ted Thompson that they should allow safety Nick Collins a place back on the roster he was forced off of last year when he injured his neck in week 2.
But according to a story by the Milwaukee Journal Sentinel, that's what Nick Collins is going to attempt.
Here's what Collins is quoted was saying, "If everything's good, then we're going. If (doctors) say there's a slight chance of something, then that's it."
However, there are many factors that could keep him from making an attempt.
The biggest could be the two longtime football men at the top of the Packers organization. Both McCarthy and Thompson have stopped short of saying Collins should retire, but everyone within the franchise would probably agree that the two will be difficult to pursued.
And that's after coming off a season in which the Packers' defense clearly missed the All-Pro safety. Though the team defense wasn't stellar through the first two games, after Collins was lost the team literally imploded on that side of the ball.
As for the positives on Collins' side are the advances made in medical science in how neck injuries are treated. Many feel Collins could come back and play and play at a high level.
So many questions will need to be answered if Collins is allowed to come back and only time will bring those answers.
Collins is scheduled to meet with the Packers sometime this week. Nobody is really sure when that will take place, but a decision about whether Collins will come back will be made at that time.
In the meantime, it would be a good idea to read this story by the Journal Sentinel.
No matter where you stand on the issue, the decision will have a profound impact on the direction of the team.
Stay tuned.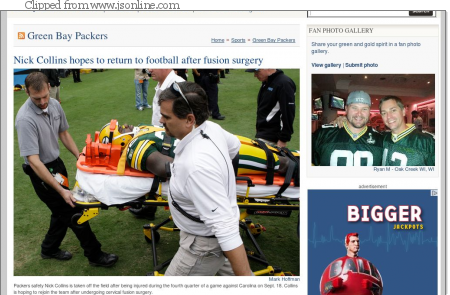 Tags: Green Bay Packers Mike McCarthy Milwaukee Journal Sentinel Nick Collins Ted Thompson