One of my all-time favorite players was Lynn Dickey, the rifle-armed quarterback who connected so many times with Hall of Famer James Lofton, tight end Paul Coffman and and plethora of running backs.
When the Packers announced on this date back in 1986 that they would be releasing all rights to the quarterback it not only shocked me, but set the Packers back several years. Randy Wright took over for the veteran QB and we all know how that all turned out. It wasn't until the Majik Man, Don Majkowski, took over under center that that the Packers finally started to find the win column again.
Courtesy of the Green Bay Packers Hall of Fame is this piece about Dickey's release … enjoy.
Packers Give Up Rights to Lynn Dickey
June 11, 2012 | Eric Goska |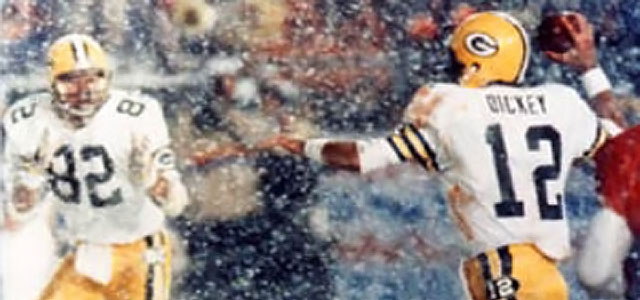 June 11, 1986 – The Green Bay Packers announce they have notified the NFL that they are relinquishing all rights to veteran quarterback Lynn Dickey. The decision to cut ties with Dickey comes down to money, and it occurs a little more than 10 years after he was obtained in a trade (with the Houston Oilers) to bring stability to the quarterback position. "We just had to make a decision, based on what his worth to us is," Packers coach Forrest Gregg says. "I don't think 110 percent of his salary is a fair figure." Dickey, 36, notified the team that he would re-sign for that amount ($935,000), but the price tag was well above the $215,000 the Packers reportedly offered him in February to retain his rights.
Tags: Don Majkowski Green Bay Packers Green Bay Packers Hall Of Fame James Lofton Lynn Dickey Paul Coffman Randy Wright