Ted Hendricks – his time in Green Bay is a simple blip on his Hall of Fame career. After spending the 1974 with the Packers, Hendricks decided to look elsewhere for employment – a fact that is highlighted in today's Green Bay Packers Hall of Fame "Today in Packers History."
After blocking seven kicks for the Packers in 1974, Hendricks was one of those itinerant players in the 1970s who considered Green Bay the last outpost in the National Football League. He may have seen the writing on the wall and wanted out. Those were disturbing times for Packers fans as the franchise really struggled on and off the field. It's good to be able to look back on those dark days with the past 20 years of success in hand.
Anyway, here's what the Packers Hall of Fame wrote about Hendricks:
Ted Hendricks Looking Elsewhere
June 13, 2012 | Eric Goska |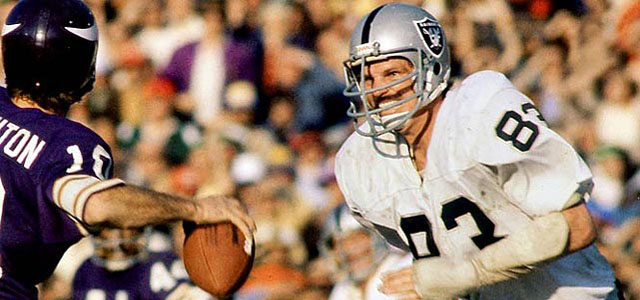 June 13, 1975 – The business agent for Ted Hendricks, the towering, 6-foot-7 inch linebacker who blocked seven kicks for the Green Bay Packers in 1974, acknowledges he is looking at other teams to employ his client in 1975. "I talked to the Dolphins last Tuesday," Miami businessman Tony Roberts says. "But we're actually further along in our negotiations with some other teams. Three other NFL clubs and one in the WFL (World Football League) have entered pretty seriously into the picture." Hendricks eventually signs with Oakland where he enjoys a nine-year career with the Raiders. In 1990, Hendricks is inducted into the Pro Football Hall of Fame.
Tags: Green Bay Packers Green Bay Packers Hall Of Fame Miami Dolphins National Football League Hall Of Fame Oakland Raiders Ted Hendricks Tony Roberts World Football League