What did 25 cents per hour mean for the completion of City Stadium in Green Bay back in the summer of 1957?
Well, it was the difference between the Green Bay Packers starting their season in a new facility or playing in the old.
A strike of the carpenters union that lasted 16 days slowed the construction of the new Green Bay stadium that was to become Lambeau Field, but a settlement of 25 cents more per hour for workers got them back on the job to finish.
Read about it in this post courtesy of the Green Bay Packers Hall of Fame.
Stadium Strike Ends
June 16, 2012 | Eric Goska |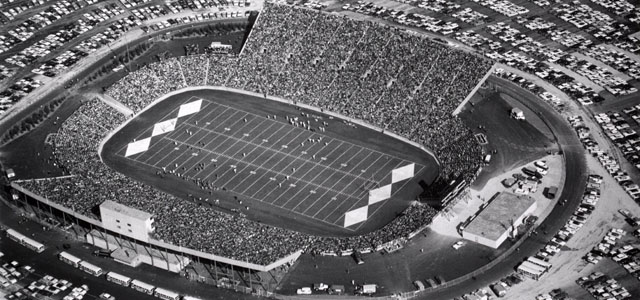 June 16, 1957 – A spokesman for the Carpenters Local No. 1146 announces settlement of a wage dispute that had halted construction of New City Stadium. The strike occurred on June 1 after the contract between the union and the Fox River Valley Construction Association expired. Armed with a 25-cent-an-hour-raise, the carpenters return to work on June 17 and the stadium is finished in time for the season opener on Sept. 29 between the Green Bay Packers and Chicago Bears.
Tags: Chicago Bears City Stadium Fox River Valley Construction Association Green Bay Packers