Frankly, I don't remember this.
Brett Favre the gunslinging, hard playing, hard living quarterback who had just arrived via trade in Green Bay four months prior was with Esera Tuaolo, the National Anthem-singing, gay defensive lineament were arrested for their involvement in a bar fight on this date in 1992.
Maybe I just wasn't paying attention at the time or maybe it was buried on page six of the sports section because neither player were really high profile at that time. Or maybe the media just didn't care.
Either way, today's Green Bay Packers Hall of Fame post noting important events in Packers history highlights this story.
See below and tell me if you remember this.
Brett Favre and Esera Tuaolo are Arrested
June 24, 2012 | Eric Goska |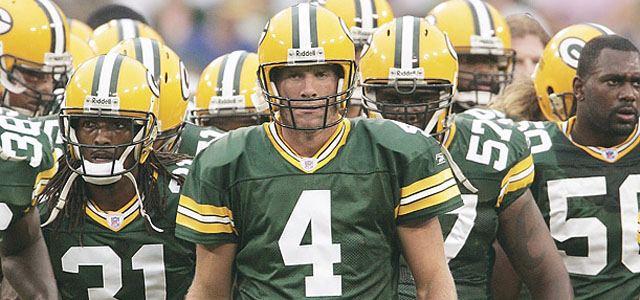 June 24, 1992 – Packers quarterback Brett Favre and nose tackle Esera Tuaolo are among four people arrested during a fight at a nightclub in Hattiesburg, Mississippi. Favre, who was obtained by the Packers in a trade with the Falcons in February, is charged with public drunkenness, disorderly conduct and profanity. Tuaolo, Green Bay's second-round draft pick in 1991, is charged with disorderly conduct. Also arrested are Favre's brother, Jeffrey, and Favre's girlfriend, Deanna Tynes. Nobody is hurt during the incident at Ropers Nightclub, and all four individuals are released on their own recognizance.
Tags: Brett Favre Deanna Tynes Esera Tuaolo Green Bay Packers Green Bay Packers Hall Of Fame Hattiesburg Mississippi Jeffery Favre