Though the general rule of thought is that the "flak jacket" for National Football League quarterbacks didn't come around until Houston Oilers' QB Dan Pastorini made a sensation by wearing one in the 1970s, it seems the protective garment was around long before that.
In fact, the Green Bay Packers' great Bart Starr joined a growing number of quarterbacks in the late 1960s who were turning to a vest-like garment to help protect sore ribs.
Today's Day in Packers' History offered by the Green Bay Packers Hall of Fame documents that in 1969 Starr, his coach and medical personnel with the team decided that it was the best way to protect the Super Bowl Champion.
It's an interesting piece of nostalgia. Click here to go to the website or scroll down for a look at the article.
Bart Starr to Wear Vest in 1969
June 25, 2012 | Eric Goska |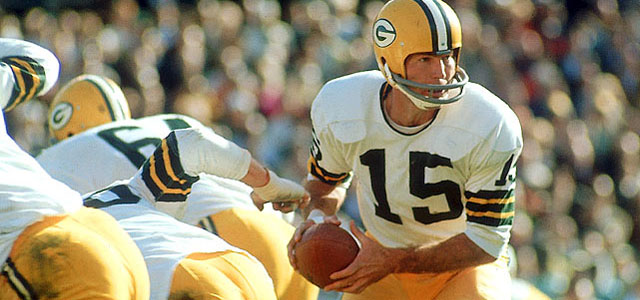 June 25, 1969 – Though out of town on business, Packers quarterback Bart Starr is not forgotten as coach Phil Bengtson's rookie camp moves into its third day. Starr, who missed 28 quarters in 1968 because of injury, will be better protected in 1969 according to Bengtson. "Bart never thought he needed a protective vest," Bengtson says. "But he'll wear one now. A rib injury is very slow to heal and every little jar affects sore ribs more than any other injury." Starr, 35, plays in 12 of 14 games in 1969.
Tags: Bart Starr Dan Pastorini Green Bay Packers Green Bay Packers Hall Of Fame Houston Oilers Phil Bengston