The debate of late about who is the greatest Packer player of all time brings today's look at Packers history into better focus. For it was exactly 15 years ago, June 27, 1997, that Don Hutson, the 1930s and 40s superstar wide receiver, passed away.
Given former Packers GM Ron Wolf's recent comments about his protege Brett Favre being the greatest Packer ever and Green Bay Press Gazette's sports editor's Mike Vandermause's counter that Hutson was the best and all the others who said Bart Starr was the best, this date's historical significance takes center stage.
Hutson dominated his era and there are those who said he could have played and starred in any era. He brought the forward pass into prominence and was the franchise's figurehead for many, many years.
His most famous quote: "For every pass I caught in a game, I caught a thousand in practice."
Hutson played 11 years for the Packers, with his best being between 1941 and 1943. He caught 488 passes for 7,991 yards and had 99 career touchdowns during a time when the forward pass was just coming into its own in the league. Consider if he had played in today's pass-happy league.
His best year overall, 1942, at the height of World War II, Hutson caught 74 balls for 1,211 yards – a 16.4 yard average. Ironically, Hutson's career per-catch average was also 16.4 yards. His best year in average was 1939 when he caught 34 balls for 846 yards – a phenomenal 24.9 yard average.
But what makes Hutson stand out was the fact that he also was one of those players in an era when he was required to play both ways and also spent time returning kicks – and to top that, later in his career he also spent time as a placekicker for the Packers. He probably also helped clean up the locker room and carried the supplies and water out to the field.
Between 1940-45, Hutson intercepted 30 passes, returned them 389 yards and even had one interception return for a touchdown. His best year on the defensive side of the ball was in 1943 when he picked eight balls and returned them for 197 yards – that was also the year he had the pick-six.
There are few alive today who remember seeing Hutson play, but by looking at his statistics it's clear he was something special.
See his career receiving statistics and all others here …
The Green Bay Packers' Hall of Fame posted the notice about his death this morning on its website. You can see it below or go directly to their website to view the page and many other of their special postings.
And while you're at it, don't forget to go to lombardiave.com's Facebook page and follow us on Twitter.
Packers Legend Don Hutson Passes
June 27, 2012 | Eric Goska |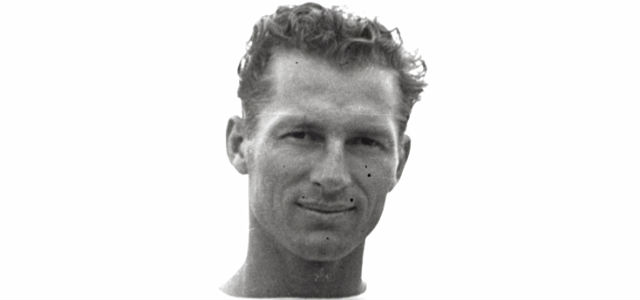 June 27, 1997 – The flags at the Green Bay Packers offices fly at half mast in honor of Don Hutson who died a day earlier in Rancho Mirage, California. The funeral service for Hutson, 84, will be for family only. "There are no plans (for a memorial service in Green Bay) at this point, but that's not to say it won't happen," says Jeff Blumb assistant director of public relations for the Packers. Hutson, considered one of the greatest receivers in NFL history, caught 488 passes in 11 seasons with Green Bay from 1935 through 1945.
Tags: Don Hutson Green Bay Packers Hall Of Fame Green Bay Press Gazette Mike Vandermause National Football League Ron Wolf