One of my favorite Packers quarterbacks of all time, Lynn Dickey, was known for his pin-point accuracy and his ability to throw the long ball – especially to receivers like Hall of Famer James Lofton, JJ Jefferson and tight end Paul Coffman.
However, Dickey was also the oft-injured player whose inability to stay on the field, irritated both fans and team personnel with his knack for getting hurt.
The story below presented by the Green Bay Packers Hall of Fame (one of my favorite websites, by the way) details one of those injuries that affected Dickey and the Packers during the height of his career.
Though the statement by doctors at the time that the removal of a plate from Dickey's leg wouldn't affect the weight-bearing abilities of the Packers' quarterback, it clearly did. Dickey didn't make it back to the field until well into the 1979 season.
In fact, Dickey played in just five games that season, starting three of them. He was 60-119 for 787 yards, five touchdowns and four interceptions. Of course, Dickey went on to some very productive seasons after 1979, including 1983 when he threw for more than 4,400 yards – a longstanding record for the Packers.
But for the story about his leg injury in 1979, check out the posting by the Hall of Fame below.
Lynn Dickey Undergoes Surgery
July 5, 2012 | Eric Goska |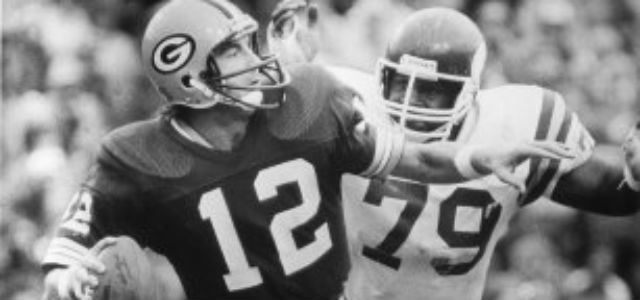 July 5, 1978 – Packers quarterback Lynn Dickey is reported to be doing well after surgery to remove a plate from his injured left leg. "The plate was removed and Lynn is doing well," Dr. James Nellen, the team's orthopedic consultant, says. "The only pain he has is from the incision, and it will not affect the weight bearing or strength of the leg." Dickey broke his leg in the ninth game of the 1977 season against the Rams. Unfortunately for Dickey, all does not go well and he does not return to action until well into the 1979 campaign.
Tags: Green Bay Packers Green Bay Packers Hall Of Fame James Lofton JJ Jefferson Lynn Dickey National Football League Paul Coffman