Today's posting by the Green Bay Packers Hall of Fame, a post that quotes Hall of Fame wide receiver James Lofton as looking forward to a "tough camp" in 1984 is gives credence to the story that was published yesterday by the Milwaukee Journal Sentinel about Forrest Gregg.
With that story, JS reporter Tyler Dunne also included a blog quoting Lofton and how he felt about Gregg and his relationships with his players. Lofton reiterated his respect for the former Packers player and coach in yesterday's story – something that comes through in his quotes below from 1984.
If you haven't read the story posted by Dunne, you should. It's how sports stories should be written. Check out his story here and the comments by Lofton here.
And enjoy the post below.
James Lofton Expects a Tough Camp
July 9, 2012 | Eric Goska |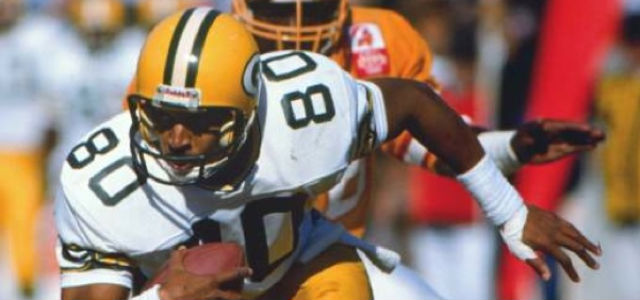 July 9, 1984 –James Lofton says he expects a tough training camp under new Packers coach Forrest Gregg, but isn't concerned about it. "The guys who perform have fun at practice," the veteran receiver says while visiting Ville du Parc Country Club in Mequon, Wisconsin to announce the third annual NFLPA Celebrity Golf Classic benefitting the March of Dimes. "Whether someone cracks a joke or someone pulls a prank on a teammate or one of the coaches. The guys who perform aren't going to change no matter what happens." Lofton adds: "I think what he (Gregg) was talking about are the guys who don't push themselves." In 1984, Lofton achieves a person best 1,361 receiving yards.
Tags: Forrest Gregg Green Bay Packers Green Bay Packers Hall Of Fame James Lofton Milwaukee Journal Sentinel Tyler Dunne