FantasyCPR, our fansided.com brethren, is hosting a series of team previews that should interest all National Football League fans.
They begin the series with a Q&A with Keith Myers of 12th Man Rising, another fine site under the fansided.com umbrella.
Fantasy fans and fans in general will be interested in following this series diligently put together by FantasyCPR's Zach Thompson.
This particular posting will be of interest to Green Bay Packers fans because of the Seahawks' newest addition, former Packers QB Matt Flynn. Following this preview will be a look at the Chicago Bears, another posting that will be of interest to Packers fans.
Anyway, you can go directly to the site here or you may just continue reading the posting below.
Seattle Seahawks – Fantasy Football 2012 Preview
As we gear up for another awesome and exciting year of fantasy football, we're excited at Fantasy Football to be able to feature some previews from our FanSided partners. It's extremely valuable to get the opinions of some passionate bloggers that spend all their time focused on one particular team.
We're excited to feature as many as possible leading up to opening kickoff and we start our coverage today by talking to Keith Myers of 12th Man Rising.
Zach Thompson, FantasyCPR: Hey Keith, thanks for helping us out with our Q&A for our season preview. It's always good to get the opinion of a fan who follows the team on how they'll be this year. As someone who covers Seattle all year round, I'm sure your insight will help us in our fantasy football draft.
We'll start with the obvious question… Is Matt Flynn the answer? Seattle was much-improved last year; they just seemed to be missing a QB. Is Matt Flynn the starter this year? And if he is what do you think his ceiling is for his first year as a full-time starter in the league?
Keith Myers, 12th Man Rising: That's the million dollar question right there. Anyone who tells you definitively that Flynn or anyone else is going to start doesn't know how Pete Carroll does things. This really is an open competition, and both Tarvaris Jackson and Russell Wilson have a shot on winning the job.
In the end, I do think that Flynn wins the starter's job over the other 2, but his ceiling isn't all that high as a fantasy QB. His arm strength would suggest that his ceiling is that of Matt Hasselbeck. The Seahawks can win a lot of games with that caliber of a QB, but he'll never put up the numbers that Drew Brees and Aaron Rodgers do.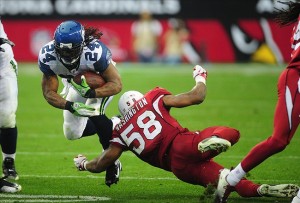 Z: Marshawn Lynch dominated last year and emerged as a top fantasy running back. Is there any reason you think he won't duplicate that kind of statistical year this year?
Keith Myers, 12th Man Rising: I don't believe there is. The O-line should continue to improve this year, as it did last season. Plus, without a big time QB and passing game feeding the ball to Lynch will be the foundation for the offense. He's going to get his touches no matter what. I've seen people suggest that rookie Robert Turbin might cut into his playing time, but baring injury I don't see that happening.
Z: What does the depth chart look like behind Lynch and is there any kind of time-share or is Lynch the rare feature-back?
Keith Myers, 12th Man Rising: The only player Lynch has to worry about in terms of playing time is rookie backup Robert Turbin, but as I said above, I don't think Lynch will lose many touches to him. Lynch really is the feature player in this entire offense.
The one time when Lynch isn't regularly on the field is third and long. He isn't much of a receiver when compared to some other backs in the NFL. Last season, FB Michael Robinson was the most likely player in the backfield. That might be something to keep in mind when drafting Lynch. Don't expect him to get you many receiving yards.
Z: I've always though that Golden Tate was about to breakout, but he hasn't really done that yet at all. Is there a receiver in Seattle that will emerge as Flynn's top target that we should look for on draft day?
Keith Myers, 12th Man Rising: Keep an eye on Doug Baldwin. He was the Seahawks' leading receiver last season while playing in the slot, and should be even better this season even though he plays out of the slot. I'd advise people to avoid drafting Tate. He might not even make the 53 man roster at this point. He still has a lot to prove before he gets consistent playing time.
Z: Is there a player on the Seahawks offense you think will have a breakout year?
Keith Myers, 12th Man Rising: Not really. I expect Doug Balwdin and Sydney Rice to put up better numbers than last season, but both had their "breakout year" in the past. It really depends on who wins the job as the starting split end. If Kris Durham or Richardo Lockette do, then I'd expect that player who have a breakout year. If not, then I don't think anyone will qualify for that title.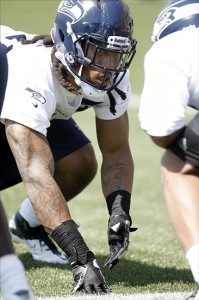 Z: I love the Seahawks as a sleeper defense/special teams unit. Am I crazy to think they'll be a top 10 defense this year? I actually like their draft pick even though many scoffed at it…
Keith Myers, 12th Man Rising: The Seahawks were the #9 defense last season statistically (not sure how that scored in fantasy points, but I've heard they were good in that regard too) And that was without much of a pass rush. The Seahawks then added a great inside pass rusher in free agency (Jason Jones) and drafted the draft's best pure pass rusher in Bruce Irvin. The increased pass rush will only make this defense better overall, and it should also lead to more turnovers. I'm surprised that people think of them as a sleeper pick. From where I'm standing, they should be one of the best fantasy defenses in 2012.
Z: Last one, give me your realistic expectation for the Seahawks this season, and then your perfect scenario. What is the one key for them getting back into the playoffs this year?
Keith Myers, 12th Man Rising: Realistically, this team should be improved with a better pass rush, more consistent play from the offensive line, and hopefully better play from the QB position. 9 to 10 wins and a chance at a wild card spot in the playoffs is about what we're expecting.
In a perfect situation, whoever wins the starting QB job steps in and provides a passing game to go along with the running game and defense. If this happens, the Seahawks will be tough to beat, as they'll be one of the most complete teams in the NFL, similar to the Texans of 2011 before Matt Shaub got hurt. If that happens, 12 wins is certainly a possibility. Unfortunately, I just don't see that passer on the roster right now.
Z: Thanks again to Keith Myers for joining us for our Seahawks preview. Make sure to check out his team's excellent coverage of the Seahawks throughout this upcoming season on 12th Man Rising.
Tags: 12 Man Rising Bruce Irvin Chicago Bears Doug Baldwin FanSided.com Fantasycpr Golden Tate Green Bay Packers Houston Texans Jason Jones Keith Myers Marshawn Lynch Matt Flynn Matt Schaub Michael Robinson Pete Carroll Robert Turbin Russell Wilson Seattle Seahawks Syndey Rice Tarvaris Jackson Zach Thompson