With Mike Holmgren set for induction into the Green Bay Packers Hall of Fame this weekend, we look back along with the Green Bay Packers Hall of Fame on what former team president Bob Harlan had to say about the former Packers coach's decision to leave.
In two words: Not happy.
But Harlan understood what Holmgren wanted and allowed him the opportunity. What's ironic is that had Harlan known the status of former GM Ron Wolf, he would have moved to keep Holmgren.
Read what Harlan has to say in this posting by the Packers Hall of Fame.
Harlan Reflects on Mike Holmgren's Departure
July 19, 2012 | Monty McMahon |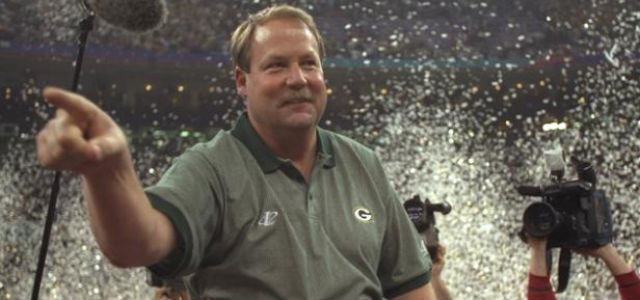 Mike Holmgren was one of the most successful coaches in Green Bay Packers history, but he ultimately left the organization when he was offered the dual role of coach and general manger by the Seattle Seahawks.
That opportunity wasn't available to him in Green Bay with Packers Hall of Famer Ron Wolfrunning the personnel side of the operation. Wolf would retire in 2001, two seasons after Holmgren left for Seattle.
Former team president Bob Harlan, a Packers Hall of Famer himself, told Mike Vandermause he would have tried to keep Holmgren around if he knew Wolf were so close to retirement.
"As much as I did not like the idea of one person having both jobs, I think in my mind I probably would have, if I knew Ron was going," said Harlan. "I felt so highly of Mike Holmgren that if that would have kept him in the organization, I probably would have made that move. I really would have."
Holmgren didn't necessarily want to leave Green Bay, but ultimately wanted the opportunity to advance his career.
"When Mike came to see me when he was going, he said: 'This is my chance to run my own operation.' He said, 'I feel like I'm ready to do that.' He said, 'If all I wanted to do is coach, if I just wanted to be a coach, I'd never leave Green Bay. But this is my chance to go run that,'" Harlan said.
Holmgren will join Wolf and Harlan when he's enshrined in the Packers Hall of Fame on Saturday.
Tags: Bob Harlan Green Bay Packers Green Bay Packers Hall Of Fame Mike Holmgren Ron Wolf