I learned something new today about the Packers – you learn something new every day … that's what they say.
Well, today I did learn something new and it applies to Ben Davidson, that 6-foot 8-inch monster whose mustache was nearly as famous as the way he played with the Oakland Raiders in the mid- to late-60s.
Davidson had ties to the Packers going back to the early '60s, something of which I was not aware. He also left Green Bay for Washington before actually landing with the Raiders.
Here's the brief from the Green Bay Packers Hall of Fame.
Clock Runs Out on Packers' Big Ben
August 20, 2012 | Eric Goska |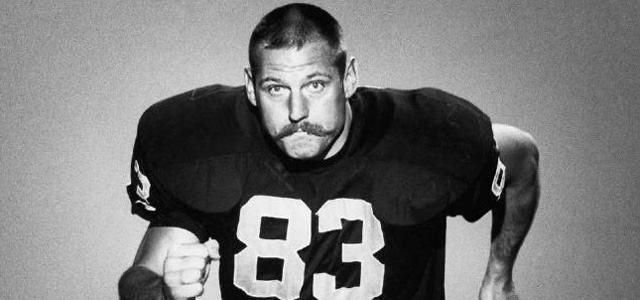 August 20, 1962 – Ben Davidson, the Green Bay Packers towering 6-foot-8 defensive lineman who would go on to make a name for himself as an Oakland Raider, is traded to the Washington Redskins for a fifth-round draft choice in 1963. Green Bay uses that pick to select guard Jack Cverko out of Northwestern University. This is not the last the Packers will hear of Davidson as he starts at right defensive end for the Raiders in Super Bowl II, a game won by Green Bay 33-14.
Tags: Ben Davidson Green Bay Packers Green Bay Packers Hall Of Fame Oakland Raiders Washington Redskins