One of the most anticipated additions to a Green Bay Packers team was Eddie Lee Ivery, who tore up his knee at the end of a second quarter rush and was gone for the year his rookie season. It was the first game of the 1979 season against the Bears – one that would end as a Bears 6-3 win.
Ivery's up and down career with the Packers would eventually last eight years, but his first game was a harbinger of the rest of his career. Though he played in all 16 games in 1980 and rushed for 831 yards, he followed that up with one game in 1981, nine games in 1982 and eight in 1983. Between 1984 and 1986 Ivery played in this number of games per season: 10, 15, and 12.
Click here for Ivery's career statistics and below is the story from the Green Bay Packers Hall of Fame about Ivery's first game.
Packers Top Pick Eddie Lee Ivery is Lost for Season
September 2, 2012 | Eric Goska |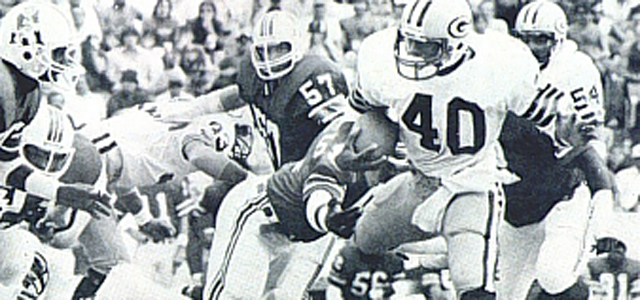 Sept. 2, 1979 – Eddie Lee Ivery, the Green Bay Packers No. 1 draft choice who had shown so much promise, is lost for the season when he suffers torn cartilage and damage to the anterior cruciate ligament of his left knee in a season-opening 6-3 loss to the Bears in Chicago. Ivery crumples to the turf after gaining 11 yards on a second-quarter carry. The run is Green Bay's longest of the afternoon. "I'm trying to keep my spirits up," Ivery says from his room at St. Vincent Hospital a day later. "This being the first time something like this has happened. I don't know how to accept it."
Tags: Eddie Lee Ivery Green Bay Packers Green Bay Packers Hall Of Fame