If you're going to Lambeau Field for today's game between the Green Bay Packers and the San Francisco 49ers, you will have ringside seats to the National Football League's most-anticipated game – heck, even Joe Buck and Troy Aikman will be there calling it.
However, if not, check out the preview below, as well as the map provided by http://www.the506.com/nflmaps/2012/wk1.html.
Across the state, the game will be broadcast on FOX television stations, and if you like listening to Wayne Larrivee on the radio, check out the Packers Radio Network.
http://www.nfl.com/videos/nfl-game-previews/0ap2000000059209/Preview-San-Francisco-49ers-vs-Green-Bay-Packers
---
NFL on FOX: Week 1 Late Game – September 9, 2012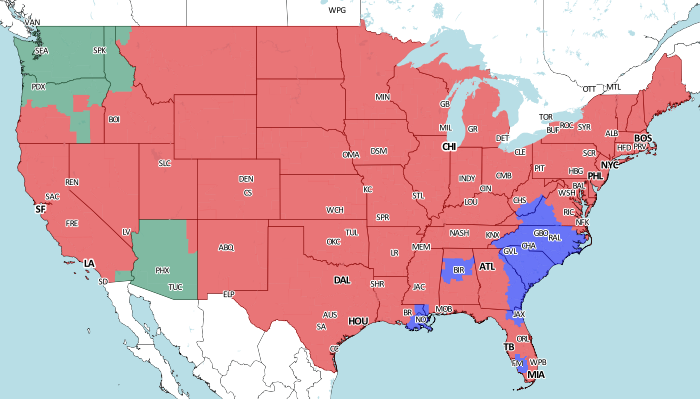 ---
AK:

Anchorage

Fairbanks

HI:

Honolulu
---
San Francisco @ Green Bay
Joe Buck, Troy Aikman

Carolina @ Tampa Bay


Ron Pitts, Mike Martz
Seattle @ Arizona
Sam Rosen, Heath Evans
UPDATES:
Fort Myers FL: SF-GB to CAR-TB