 It seems like a lifetime ago, but it was one of the most exciting moves the Green Bay Packers had been involved in.
When the Packers acquired John Jefferson from the San Diego Chargers, there were some who thought he could be the perfect match for the Green Bay offense and a great complement to wide receiver James Lofton.
Jefferson ended up staying around in Green Bay for four years, catching 149 passes for 2,253 yards.
Courtesy of the Green Bay Packers Hall of Fame, here is a post about this day in Packers history when Jefferson was traded to the team from Wisconsin.
Packers Land John Jefferson
September 17, 2012 | Eric Goska |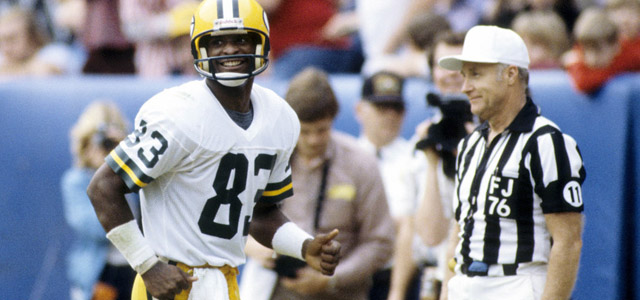 Sept. 17, 1981 – The Green Bay Packers secure All-Pro wide receiver John Jefferson in a trade with San Diego that is hailed by Mike Christopulos of the Milwaukee Sentinel as "the biggest trade the Packers have made since Oct. 22, 1974 when Dan Devine, then coach and general manager, acquired quarterback John Hadl." The Packers swap first-round picks in 1982 with the Chargers and also give up a second-round pick in 1982 and a first-round pick in 1983. "We're pleased to consummate a trade for a player of this magnitude," Packers coach Bart Starr says. "It gives us a tremendous added dimension to our passing game and takes a burden off James Lofton." Jefferson catches 39 passes in 13 games in 1981.
Tags: Green Bay Packers Green Bay Packers Hall Of Fame John Jefferson