For eight years in the early to late 1970s, fullback John Brockington excited Green Bay Packers fans. He was the first back to rush for 1,000 yards his first three years and with his high-stepping style, was the terror of the NFL Central Division.
But like all running backs, Brockington saw his final day with the Packers. In fact, it was on this day back in 1977 that head coach Bart Starr cut the longtime star.
In all, he played seven years in Green Bay, rushing 1,293 times for 5,024 yards – a 3.9 yard average. His best years were his first three, when he carried for 1,105, 1,027, and 1,144 yards, respectively. In his fourth season, he fell just short of 1,000 yards, rushing for 883. During his time in Green Bay, 1971-77, Brockington played during a 14-game schedule.
He played his final year in Kansas City.
But to get a flavor of what Brockington experienced on that final day in Green Bay, the Green Bay Packers Hall of Fame posted the following:
Trail's End: John Brockington is Released
September 21, 2012 | Eric Goska |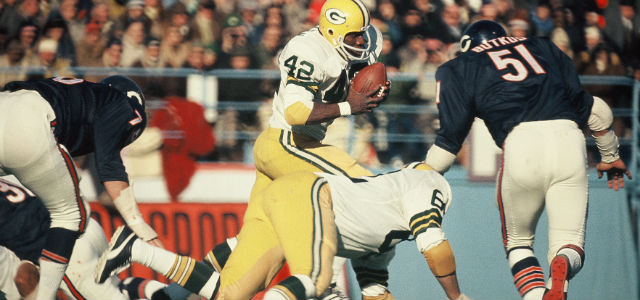 Sept. 21, 1977 – John Brockington's career, so filled with promise during the days of Dan Devine, comes to a quiet end early in the third season of Bart Starr's tenure as Green Bay Packers head coach. The second-leading rusher in Green Bay's history is cut just three days after surpassing the 5,000-yard career rushing mark. "Bart and I have talked," Brockington says. "I thought I might be traded, but I didn't think I'd be waived through the league. That was very disappointing." Brockington became the first player in NFL history to gain more than 1,000 yards rushing in each of his first three years (1971-73). In his final game as a Packer, the fullback manages 25 yards on 11 attempts.