On this very day in Green Bay Packers history, Brett Favre made his first official start against the Pittsburgh Steelers, leading the Packers to a 17-3 victory.
In the process of winning, Favre also posted an impressive quarterback rating – one of the best ratings in team history.
The Green Bay Packers Hall of Fame provides this Packers day in history post each and every day. If you're into remembering all the good – and bad – things that have occurred over the past 94 years, revisit their page daily.
But without further adieu … enjoy this blast to the past.
Oh, and don't forget to like lombardiave.com on Facebook and follow us on Twitter.
Simply Favrelous: Brett Makes First NFL Start
September 27, 2012 | Eric Goska |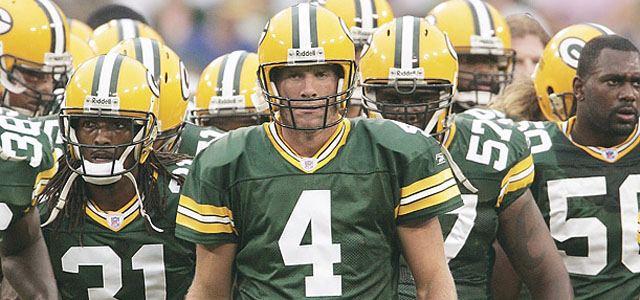 Sept. 27, 1992 – Brett Favre makes his first NFL start at quarterback one week after leading the Green Bay Packers to an exciting, last-minute, 24-23 win over the Cincinnati Bengals. This time the cannon-armed field general disposes of the Pittsburgh Steelers, 17-3, to even the team's record at 2-2. "Today he played like a veteran," Steelers safety Carnell Lake says of the Packers' young quarterback. "He showed that he knows what he's doing out there." Favre is on target completing 14 of 19 passes for 210 yards and two touchdowns. His passer rating of 144.6 is one of the best in team history.
Tags: Brett Favre Green Bay Packers National Football League