It was a fact about Hall of Famer James Lofton that I may have known at one time, but was quickly reminded by the Green Bay Packers Hall of Fame post yesterday.
Wide receiver James Lofton took a step back in time Nov. 9, 1980 by agreeing to play safety for Bart Starr's team late in a game. He even made a tackle and was credited for an assist on a tackle.
Considering his value to the team at his offensive position, it was quite a surprise that Starr utilized him on defense, too. However, given his overall athletic abilities, it's not sup rising that Starr sent him out on defense.
The following is the post by the Hall of Fame – a site that's chocked full of Packers history. You might want to check the site out sometime. It's a real joy.
And while you're at it, Like Lombardiave.com on Facebook and follow us on Twitter.
For Safety's Sake: Packers James Lofton Gets Defensive
November 9, 2012 | Eric Goska |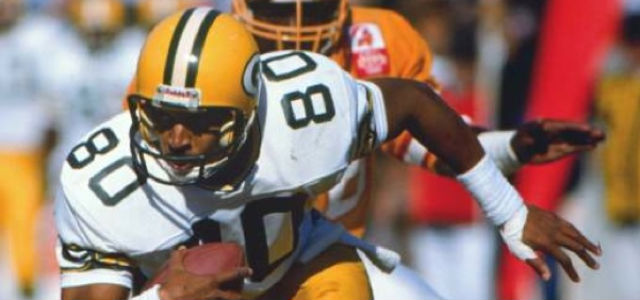 Nov. 9, 1980 – Two-way players, already on the way out during the days of Bart Starr the player (1956-71) were almost impossible to find during the nine years of Starr the Packers coach (1975-83). On this November afternoon in a 23-16 win over the 49ers at Milwaukee County Stadium, Starr unveils James Lofton, wide receiver and part-time safety. The veteran wideout, who catches eight passes for 146 yards, is utilized as the deep man on five plays when the team shifts into an unorthodox 3-1-7 defense. Lofton is credited with one tackle and one assisted tackle. "You know, I went both ways in high school," Lofton says.
Tags: Green Bay Packers Green Bay Packers Hall Of Fame James Lofton