Maybe you remember this day, maybe you don't – but Green Bay Packers former defensive lineman Kabeer Gbaja-Biamila surely does.
Very early in the morning of Dec. 1, 2002, KGB and his wife welcomed their first child into the world. KGB then went to Lambeau Field for his day job, helping the Packers to a 30-20 win over the Chicago Bears – two significant highs for the productive Packers player.
Then it all came crashing down later that night when KGB learned his mother died in a single-vehicle car crash in California.
You might remember just how productive KGB was as a player. In his third season with the team – the second of four straight where he had double-digit sack totals – he also returned an interception 72 yards for a touchdown
It was certainly a day KGB will remember for his entire life. The Green Bay Packers Hall of Fame recognized the anniversary date of that fateful day a decade ago.
Their post is below …
The Best and Worst of Times: A Day in the Life of KGB
December 1, 2012 | Eric Goska |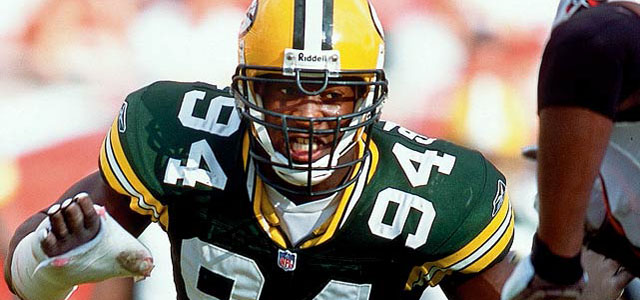 Dec. 1, 2002 – Life can be wonderful. Life can be cruel. Kabeer Gbaja-Biamila rode a roller coaster of emotion on the day he and his Packers defeat the Chicago Bears 30-20 at Lambeau Field. At about 1:30 a.m. in Green Bay, Gbaja-Biamila's wife, Eileen, gives birth to the couple's first child: Abdul-Rashid Olatunji. That evening, the defensive end's mother, Bola Tito Anjorin Gbaja-Biamila, is killed in a one-car accident near the family's home in Los Angeles. According to a report by the Associated Press, Mrs. Gbaja-Biamila was on her way to assist a friend when the accident occurred. "She's going to be dearly missed," Kabeer tells the AP. "She was always trying to help somebody, and that's what she was doing just before she died."
Tags: Green Bay Packers Green Bay Packers Hall Of Fame Kabeer Gbaja-Biamila