Gosh, for us old-timers it seems like yesterday, but the good (or maybe bad) thing about the Green Bay Packers Hall of Fame is that they constantly remind us how fast time goes – especially when it comes to Packers history.
It was on this date in 1972 – yes folks, that's 40 years ago – the Packers under the guidance of head coach Dan Devine, took up residence for the weekend in Winston-Salem, North Carolina to prepare for their playoff game to be played that weekend against the Washington Redskins.
For those of you who don't remember, it was an exciting season for Packers fans as Devine and quarterback Scott Hunter led the Packers to a 10-4 record, mostly because of the running exploits of rookie John Brockington. The high-stepping boulder of a man led the Packers in rushing that season with 274 attempts for 1,027 yards. However, it was his work in the backfield that was complemented by MacArthur Lane who carried the ball 177 times of another 821 yards – a 4.6 yard average.
Now don't laugh, but Hunter's statistics paled in comparison to the pass-happy stats put up in today's NFL – he completed 86 passes in 199 attempts – a 43.2 percent completion rate – FOR THE ENTIRE SEASON! Granted, it was only a 14-game season, but those stats in today's game would be an embarrassment. Back then, it was good enough to lead a team into the playoffs.
The season all came to an end on Christmas Eve when the Redskins defeated the Packers 16-3. Played at the Robert F. Kennedy Memorial Stadium, the Packers and Redskins played to a scoreless tie after the first quarter, but the Skins took a 10-3 lead into halftime and held the Packers in check the rest of the way.
Hunter was 12 of 24 in the game for 150 yards, mainly because the Packers couldn't mount a running game. Brockington ran 13 times for nine yards and though Lane 14 attempts for 56 yards, 22 of them came on a single attempt.
The Redskins stats weren't too much better: quarterback Billy Kilmer was 7 of 14 for 100 yards, but it was the run game behind Larry Brown's 101 yards on 25 carries that was the difference.
Here's the story as presented by the Packers Hall of Fame … take a look and remember …
Road Trip: Packers Arrive in North Carolina for Playoff Game
December 19, 2012 | Eric Goska |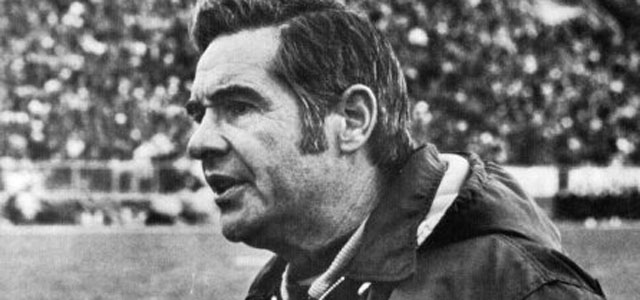 Dec. 19, 1972 – For the first time in nearly five years, Green Bay takes to the road for a great cause: the playoffs. Capturing their first NFC Central Division title since Vince Lombardi's final year as Packers coach (1967), the team travels to Winston-Salem, North Carolina where it will prepare to face the Washington Redskins in a divisional playoff game on Christmas Eve. "We'll have more squad meetings that we normally would," Packers coach Dan Devine says. "After all, we'll have everybody together…all the time." Devine says he chose Winston-Salem because it was better suited for total concentration. "It's going to take the same kind of effort we had against Detroit and Minnesota to beat Washington," he says. "Anything less won't do." Unfortunately for Green Bay, its effort is not enough as the Redskins triumph 16-3.
Tags: Green Bay Packers Green Bay Packers Hall Of Fame NFL 1972 Season